Known as the Pearl of the Indian Ocean, Sri Lanka offers its rich heritage and culture to all visitors. Indian residents will find it rather affordable to travel from India to Sri Lanka since this island country happens to be its southern neighbour.
Indians' Love for Sri Lanka
Sri Lanka is sometimes referred to as 'the teardrop of India', owing to its shape and proximity to India. When it comes to languages, the locals speak Tamil and English along with their mother tongue – Sinhalese. This makes it very easy for Tamilians to relate to Sri Lankans.
Similar to India, this island nation is home to many religions, with Buddhism being the most popular one. Hindus, Muslims and Christians constitute minorities. Indians tend to feel at home in Sri Lanka because of familiar-looking faces and dressing styles.
Indians' love for Sri Lanka (formerly known as Ceylon) extends to their trade relations. Plenty of Ceylonese tea and coffee is imported into India. Also, fashion garments and fabrics sold in India are often manufactured in Sri Lanka.
Sri Lanka entices Indians with its extensive Buddhist temples, freshwater lakes, clean beaches, dense forests and national parks with a treasure trove of birds, animals and plants. The country has a wealth of history as well, accessible at its museums and old-world structures.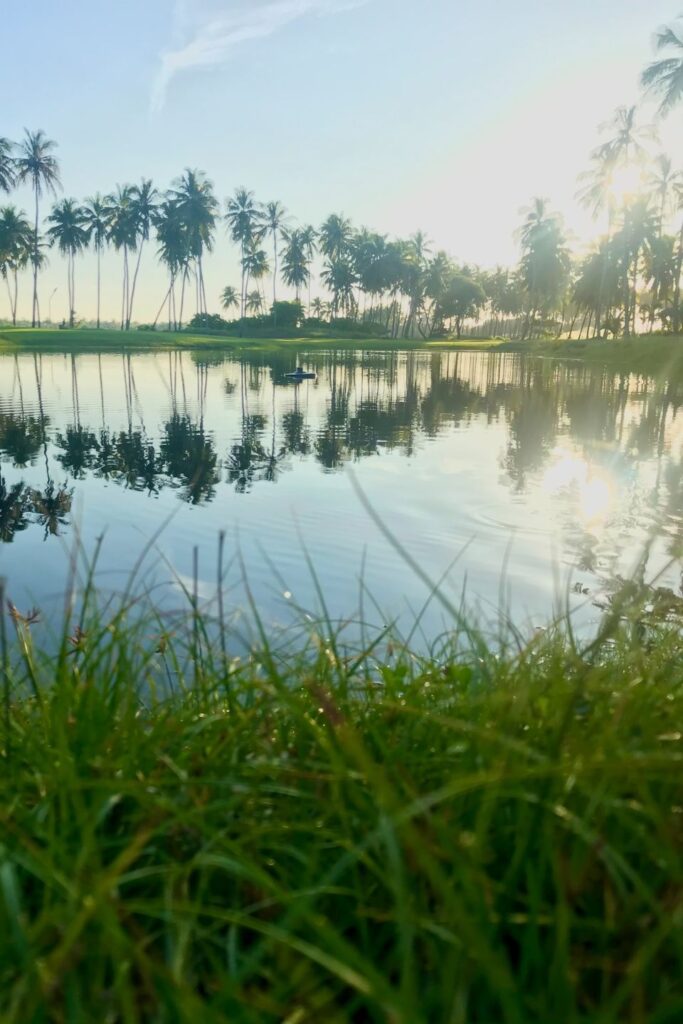 Where is Sri Lanka?
Sri Lanka is located in the Indian Ocean, about 6.9 degrees to the north of the equator and roughly 79.8 degrees to the east of the prime meridian. This Asian island country follows the SLST (Sri Lankan Meridian Time), which is UTC + 5:30, the same as India.
India to Sri Lanka Map
Sri Lanka lies to the south east of mainland India. This island is separated from India by the Palk Strait, which is at least 9 metres deep. Satellite images often show a submerged line of rocks connecting the two countries underwater, adding more weight to a story from the ancient Indian mythology of Ramayana where Hanuman and his troops help Ram and Lakshman build a bridge of floating rocks to cross over from India to Lanka.
India to Sri Lanka Distance
The shortest distance from India to Sri Lanka is 54.8 km, which is the approximate length of the Palk Strait. On an average, Indian cities are about 2,000 odd kilometres away from Sri Lanka.
Which is Closer to India? Sri Lanka or Thailand?
India to Thailand takes about two and a half hours at the very least, whereas a flight to Sri Lanka can be managed in just an hour and a half. The cities in South India have direct connections to Colombo – the capital city of Sri Lanka, making it ever more convenient.
Speaking of distance, it is possible to reach Thailand by road (over several days). However, there is no road network between the island of Sri Lanka and India. The air and sea routes are quite short though.
When it comes to the sea route, India is approximately 1,348 nautical miles away from Thailand. Sri Lanka, however, is only 18 nautical miles from mainland India! To cut a long story short, Sri Lanka is definitely closer to India than Thailand can ever hope to be.
How to Reach Sri Lanka from India?
Technically speaking, Sri Lanka is reachable from mainland India by air and sea. Flights are the only viable option, however, as commercial cruises or ferry services either don't run very often or are launched as special offerings once in a blue moon. Sometime in the past though, it was possible to take a ferry across the Palk Strait.
India to Sri Lanka by Flight
It is very convenient to fly from India to Sri Lanka, regardless of the fact that it is the only way to commute between these two South Asian countries. Several airlines operate between the two Asian countries, connecting various cities in each destination.
Sri Lanka Airport
There are five international airports in Sri Lanka, besides multiple domestic airports and waterdromes (which only serve seaplanes). A majority of flights from India land at the Bandaranaike International Airport in Colombo – the capital city of Sri Lanka.
Convenient flight connections are also available for Jaffna, Sigiriya, Galle, Minneriya, Bentota, Kandy and Nuwara Eliya – all popular tourist destinations in the country.
Flight Duration from India
Thanks to several non-stop flights between Sri Lanka and India, the flying time is just a couple of hours on an average. The fastest flight is from Trivandrum (Thiruvananthapuram) to Colombo – only an hour!
Flight Operators from India to Sri Lanka
SriLankan Airlines (the national carrier of Sri Lanka), SpiceJet, Air India (the national carrier of India), Vistara and IndiGo offer non-stop flights from India to Sri Lanka. Other flight connections (but with layovers) are available with Cathay Pacific, Japan Airlines and KLM Royal Dutch Airlines.
Departing Cities from India and Average Ticket Price
Flights are readily available from Mumbai, New Delhi – the capital of India, Madurai, Cochin, Thiruchirappally, Hyderabad, Chennai, Thiruvananthapuram and Bengaluru to Colombo Airport. For other cities such as Surat, Pune, Nagpur and Goa, suitable domestic layovers provide the requisite connectivity to Sri Lanka.
The average airfare for flights between Sri Lanka and India is about INR 11,000 for a single journey and approximately INR 21,000 for a return journey. However, the cheapest one-way fare can be as low as INR 5,000 if you keep an eye out for sales and early-bird offers.
India to Sri Lanka by Cruise
While hard to come by such opportunities, it is now possible to cruise from India to Sri Lanka! Cordelia Cruises has sails scheduled from June to September in 2022. This one-way cruise will run from Chennai to Colombo.
Sea Route Distance and Time Taken
The shortest distance from India to Sri Lanka is only 18 nautical miles. However, the cruise route is designed to take three days (and two nights) in total, including the days of embarkation and disembarkation.
Cruise Fare
The discounted fares for a cruise aboard the Empress of the Seas (by Cordelia Cruises) begin at INR 8,850 per person for a twin-sharing accommodation in one of the interior cabins of the cruise liner.
If you are in the mood for one of the luxury Sri Lanka vacation packages from India, you'll be paying upwards of INR 50,000 for one of the suites aboard this limited-inventory vessel. The fare is inclusive of all meals and access to the gym and fitness centre, casino, swimming pool and Jacuzzi.
Splurge a little more, and you'll be able to dine at the chef's table, take advantage of shore excursions and watch the Burlesque Show onboard.
India to Sri Lanka by Road (Possibility)
It is not possible to take the land route between India and Sri Lanka as there are no shared land boundaries between the two countries. However, if a Hindu mythological account is to be believed, there was once a floating boulder bridge built by Ram's followers to enable him to cross over to the island nation.
Visiting Sri Lanka from various Indian Cities
Reasonable air connections are at your disposal from various Indian airports to Colombo's Bandaranaike International Airport. For other destinations in Sri Lanka, connecting domestic flights, trains and bespoke cab services are available.
Delhi to Sri Lanka
New Delhi is about 3,580 km away from Colombo in terms of the aerial distance between them. Non-stop flights take about 3 hours and 35 minutes from Delhi to Sri Lanka. Choose among SriLankan Airlines, Vistara and Japan Airlines for the quickest flights.
Other airlines fly this route too. However, expect at least one layover. A return trip will set you back by INR 20,000 per person at least. One-way fares begin at INR 9,000 for economy class.
It is theoretically possible to do a road trip from New Delhi to Colombo. Depending on the route you choose, you'll be journeying for 3,368 km to 3,557 km. The drive will last over 80 hours, taking almost 4 days to complete. Night halts and breaks will increase this duration to a week.
During this journey, you will pass through the Indian states of Delhi, Uttar Pradesh, Rajasthan, Madhya Pradesh, Maharashtra, Telangana or Karnataka, Andhra Pradesh and Tamil Nadu. Thereafter, you will have to take a ferry across the Palk Strait to Sri Lanka.
Mumbai to Sri Lanka
The shortest distance between Colombo and Mumbai is approximately 1,505 km. Direct flights from Mumbai to Sri Lanka take 2 hours and 30 minutes. Airlines that can fly you non-stop on this route are Air India, SriLankan Airlines and Vistara.
Other flights with layovers are also available with IndiGo, Lufthansa, Singapore Airlines and Malaysia Airlines. Prices for a single journey begin at INR 9,000, whereas a return trip comes for INR 20,000 at the very least.
By road, Mumbai is about 2,350 km from Colombo, requiring a journey of more than 60 hours. Accounting for night halts and meal breaks, the duration extends to almost 5 days. Along the way, you will cross Maharashtra, Karnataka and Tamil Nadu, before taking the cross-border ferry over to Sri Lanka.
Bangalore to Sri Lanka
The aerial distance from Bangalore to Sri Lanka is 730 km, with the shortest direct flight taking 1 hour 25 minutes. Non-stop flights are available with SriLankan Airlines and IndiGo. Air India – the national carrier of India, and other airlines also offer flights, however, with a layover.
The cheapest one-way flight from Bangalore to Colombo begins at INR 7,000, while return tickets cost upwards of INR 21,000 for one person in economy class.
Driving down the 1,300 odd kilometres from Bengaluru to the Sri Lankan capital will take around 45 hours or 3 days, with reasonable breaks en route. You will have to zip through the South Indian states of Karnataka and Tamil Nadu to reach the Palk Strait, from where you will have to take a ferry before resuming the road trip within Sri Lanka.
Chennai to Sri Lanka
The aerial distance from Chennai to Sri Lanka is about 686 km. It takes only 1 hour 15 minutes to fly from the capital of Tamil Nadu to Colombo. Non-stop flights are operated by Air India, SriLankan Airlines, SpiceJet and IndiGo.
It costs under INR 6,000 for a one-way ticket from Chennai to Colombo. Return fares can cross INR 14,000 though. Booking flights in advance has its own advantage as the closer you book, the more you are likely to pay for the same route.
Chennai is the only Indian city that currently has a cruise operating to Colombo. Cordelia Cruises offers a 3-day trip, covering the 18 nautical miles of the ocean between the two countries.
By road, expect to negotiate a distance of 1,200 km. You have to pass through Tamil Nadu, take the ferry across the Indian Ocean to Sri Lanka and drive over to your destination Sri Lankan city.
Kolkata to Sri Lanka
Sri Lanka is located almost 2,000 km away from Kolkata – the capital of West Bengal. There are no flights that fly non-stop from Kolkata to Sri Lanka. However, plenty of options are available with layover.
Airlines that connect Kolkata to Colombo are Air India, THAI Smile Airways, IndiGo, SriLankan Airlines, Vistara, Air India, Singapore Airlines and others. Accounting for layovers, the total flight time reaches 7 hours or more. It costs at least INR 9,200 for a one-way ticket, while return flights cost more than INR 20,000 for an economy class seat for an adult.
If you take on the challenge of going on a road trip from Kolkata, prepare to drive through the Indian territories of West Bengal, Odisha, Andhra Pradesh and Tamil Nadu before you have the chance to ferry over to Sri Lanka.
Hyderabad to Sri Lanka
Hyderabad is 1,120 km away from Sri Lanka, with a flight time of 1 hour 55 minutes. Non-stop flights are offered by SriLankan Airlines only, while connecting routes are available with Air India, IndiGo, Malaysia Airlines, among others. The cheapest one-way fare from Hyderabad to Colombo will cost at least INR 7,300. Return trips may cost even over INR 25,000 at times!
The capital of Telangana is 1,820 km away from Colombo and takes about 53 hours by road. You will need to set aside at least 3 days for the road trip from Hyderabad to Sri Lanka. You will pass through Telangana, Andhra Pradesh and Tamil Nadu within India, before ferrying off to the Pearl of the Indian Ocean.
Ahmedabad to Sri Lanka
The shortest distance from Ahmedabad to Sri Lanka is about 1,900 km. Non-stop flights are not available for this route. Nevertheless, several airlines offer connecting flights between Colombo and Ahmedabad.
Choose from IndiGo, Air India and other airlines with code share and layovers in various Indian cities. The cheapest one-way flight from Ahmedabad to Colombo will cost around INR 9,500, while return tickets will be at least INR 23,000.
The journey between these two cities by road will take more than 70 hours without halts as they are around 2,900 km apart. Cross the Indian states of Gujarat, Maharashtra, Karnataka and Tamil Nadu, then take a ferry to Sri Lanka.
Goa to Sri Lanka
1,126 km away from Sri Lanka, Goa does not have non-stop connections to Colombo. One-stop flights from Goa to Colombo are available with Air India, IndiGo and a few other airlines, though.
Goa to Sri Lanka flights typically take over 10 hours. However, the shortest connection takes only 5 hours 50 minutes. While the cheapest one-way airfare is around INR 11,500, the figure reaches over INR 19,000 for a return trip.
By road, Goa is more than 1,900 km or 54 hours away from Sri Lanka. Plan for 3 to 4 days of driving with breaks. The route passes through the states of Goa, Karnataka and Tamil Nadu within India. Thereafter, you'll need a ferry to cross the Palk Strait over to Sri Lanka.
Pune to Sri Lanka
The Maharashtrian city of Pune is 1,427 km away from Sri Lanka, without any non-stop connections. If a layover is not a problem for you, flights are available with SpiceJet, IndiGo, Air India and other carriers.
The shortest flight from Pune to Sri Lanka will take about 7 hours, including a halt. One-way rates begin at INR 10,000, while return tickets may go up to INR 25,000.
Driving from Pune to Colombo will take approximately 60 hours or about 5 days with rest. Along the 2,200 odd kilometres, you will cross the states of Maharashtra, Karnataka and Tamil Nadu, before you make your way into Sri Lanka.
Cochin to Sri Lanka
The aerial distance from Cochin to Sri Lanka is about 522 km, taking just 1 hour 10 minutes to fly. Non-stop flights from Cochin to Colombo are offered by SriLankan Airlines only.
Air India and IndiGo have some connecting flights as well. The cheapest one-way fare is over INR 9,000, whereas return fares easily cross INR 22,000 for one person in economy class.
A 47-hour road trip is required to negotiate the 1,400+ kilometres between Kochi and Colombo. With meal breaks and night halts, this duration easily crosses 3 days. You only have to drive from Kerala to Tamil Nadu to be able to get on the ferry to Sri Lanka.
Nagpur to Sri Lanka
The airline distance from Nagpur to Sri Lanka is 1,521 km, taking almost 6 hours via flight. There are no flight connections without halts, and at least one layover is a given on all routes.
Air India is the most reasonable option for a flight from Nagpur to Colombo. Fares begin at INR 8,600 for one-way. They go up to INR 25,000 for a return ticket.
By road, the journey from the centre of India to Colombo takes 62 hours (almost 5 days) for 2,300 kilometres. You must drive through Maharashtra, Telangana, Andhra Pradesh and Tamil Nadu before you can exit the country and cross the sea to Sri Lanka.
Surat to Sri Lanka
Flying from Surat to Sri Lanka takes over 9 hours 30 minutes for the 1,700 kilometres. Air India is the only suitable option with a layover as there are no flights that operate non-stop to Colombo.
One-way fare costs at least INR 10,700, while return tickets sometimes reach INR 60,000 for an economy class journey from Surat to Colombo.
If you drive from this Gujarati port city to Sri Lanka, you will be crossing about 2,600 km, taking more than 66 hours or almost a week, if you are resting at night. You will pass through Gujarat, Maharashtra, Karnataka and Tamil Nadu, before crossing the international boundary to Sri Lanka.
India & Sri Lanka's Currency
The Sri Lankan currency is Sri Lankan Rupee, made of 100 cents. The ISO code for the currency of Sri Lanka is LKR often represented as රු, Rs or ரூ.
Sri Lankan rupee is available in the denominations of 1, 2, 5 and 10 for coins. Banknotes are available in the denominations of 20, 50, 100, 500, 1,000 and 5,000.
Accepted Currencies
Indian rupee (INR) cannot be used in Sri Lanka as it is a restricted currency. You may have access to currency exchanges near hotels in Sri Lanka to change your INR or reserve currencies such as euro (EUR), US dollars (USD) or British pounds (GBP) into LKR.
A good idea is to change your money at the moneychangers at the airport as not all places may accept INR (even to exchange into the local currency). For GBP, EUR and USD exchange counters are not difficult to come across.
Average Conversion Rate
You may need to book activities in Sri Lanka or make cash payments for your meals and shopping. A handy estimate of currency conversion rates (as of July 2022) is below:
1 INR = 4.54 LKR
1 USD = 79.52 INR
1 USD = 360.65 LKR
1 GBP = 94.64 INR
1 GBP = 429.17 LKR
1 EUR = 80.03 INR
1 EUR = 362.94 LKR
Is USD accepted in Sri Lanka?
The US dollar is not a legal tender in Sri Lanka. However, it is easy to exchange your USD banknotes into Sri Lankan rupees at the airport and at various currency exchange counters around the country.
Sri Lanka Visa details for Indians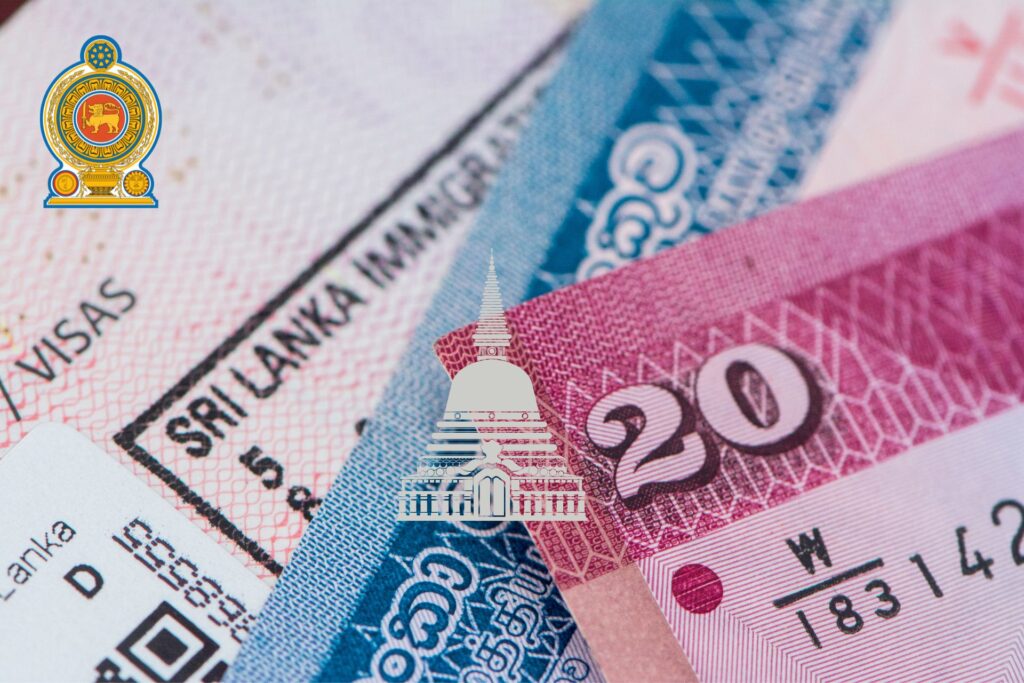 Indians need a visa to enter Sri Lanka. That said, it is possible to make the process less cumbersome by applying ahead for an ETA (Electronic Travel Authorization) online so you have to stand at the shorter queue for those who just need the visa on arrival.
Is a Passport required for Indians?
Indians need to have their passport on them to be able to enter Sri Lanka.
Sri Lanka Visa Fee
The visa fee for Sri Lanka is essentially the ETA fee that you either pay in advance online or at the port of entry. For Indians, the online ETA is USD 20 (for tourism), allowing you 30 days of stay and two entries. If you need a transit visa, it is free of cost and valid for two days on single entry.
Sri Lanka Visa on Arrival
If you do not fill up the ETA form online ahead of your journey, you can always pay USD 25 at the port of entry into Sri Lanka for the visa on arrival, valid for 30 days and with double entry. This is a longer queue at the airport, though. You also pay USD 5 extra (as compared to the online ETA).
Communication in Sri Lanka
Telecom network providers that offer their services in Sri Lanka are Airtel, SLTMobitel, Dialog, Etisalat and Hutch. You can buy a local SIM for as little as LKR 98.
International SIM Cards from Indian Airports
If you want to purchase an international SIM card that will work in Sri Lanka before you even step out of India, you can buy the cards offered by Matrix, TSIM or Roam1. You can even buy these online.
The price ranges from LKR 499 to LKR 3500 for the tourist SIM cards. The cards generally have free incoming calls and reasonable rates for outgoing calls within Sri Lanka and to India. For data, special packs must be bought.
Airtel Call Rates from Sri Lanka to India
Airtel users have a plethora of international roaming packs to choose from when they decide to go to Sri Lanka. For calling packs, the rates begin at INR 496, offering 500 MB free data, unlimited free incoming calls, 100 minutes of free local calls within Sri Lanka and calls to India and 100 free SMSs. This is only valid for a day though.
The pack validity options available are 1 day, 5 days, 10 days, 30 days, 90 days, 180 days and 365 days. If you only need data, special data-only packs are also available for international roaming in Sri Lanka.
India to Sri Lanka Phone Code
The international dialling code for Sri Lanka is +94. Prefix this to all the local Sri Lankan numbers that you will be dialing.
Availability of Indian Cuisine in Sri Lanka
It is not hard at all to find Indian food in Sri Lanka. India's southern neighbour has plenty of Indian restaurants, especially in Colombo – the capital. The same goes for vegetarian food.
Sri Lankan cuisine itself is slightly similar to South Indian cuisine, with rice and coconut milk being prominent ingredients. Appam (fluffy rice pancakes with a soft centre and crispy edge), paratha (deep-fried wheat flatbread), fish curry and roti (baked wheat flatbread made on open fire) are some delicacies similar to their Indian counterparts.
Other local items of note widely available around the country are young jackfruit curry, dhal (made with a little bit of coconut milk), kottu roti (a stir-fried mix of torn rotis with julienned veggies), string hoppers (steamed or fried rice noodles) and pol sambol (a spicy mix of onions and shredded coconut).
Respect to Sri Lanka's Culture & Sentiments
To be able to navigate Sri Lankan sentiments without hurting anyone, you must first understand a bit about Sri Lanka's history & culture. Nicknamed 'Spice Island', this South Asian country is home to many Buddhists, Hindus and Muslims.
What is sacred to one religious group may not be a big deal to another. However, to be politically correct at all times, it helps to have some guidelines that you can wrap your head around.
What to Do and What Not To
Here's a short list of how to behave when in Sri Lanka:
1. Avoid making physical contact with monks (especially when you visit Buddhist temples) if you are a woman as they are on a chastity oath.
2. When dining with a local in his or her home, do not wipe off all the food from your plate unless you want another helping.
3. Remove your shoes at the door when you enter any Sri Lankan's home.
4. Do not touch the local women (even if it is to greet them).
5. Use your right hand to pass any items at the dining table. Also use your right hand to eat.
6. Avoid taking alcohol, pork or beef as gifts for your host.
7. Dress modestly when visiting temples around the country and remember to remove your hat or cap (if any).
Dress Code
Tourist places in Sri Lanka do not have any dress code as such. However, you will notice that the locals dress quite modestly, with women usually in long skirts or dresses that reach below the knee and men in full pants.
You must be careful of what you wear if you are visiting any Buddhist or Hindu temple though. Both men and women must wear long pants or skirts that fully cover their legs.
What to Carry
Sri Lanka's weather is largely tropical, with temperatures running high all year round. It is most pleasant during the dry season which is from November to April, April being the hottest month.
If you want a glimpse of the rains and wish to make the most of the off-season rates and high availability of luxury hotel rooms in Sri Lanka, May to September is the wet season. For the best of both worlds, travel in the shoulder season of October.
Depending on the time you visit this country, you will either need an umbrella or a parasol or a sun hat. Since coconut water and other packaged drinking water options are easily available and affordable at all major seaside destinations, it is not necessary to carry your own water with you.
If you will be joining any Sri Lanka walking tours, it is a good practice to wear sunscreen with a high SPF (sun protection factor) and TPI (tan protection index) and carry a tube to be able to reapply periodically throughout the day.
Things to Note if Travelling with Kids
If you are travelling with kids, Sri Lanka tour packages from India are an excellent way to enjoy with the entire family while the planning and execution is taken care of. Here are some pointers to make your vacation time with your children relaxing:
1. Choose Sri Lanka resorts that have play areas for children when you are off to a spa therapy.
2. Keep an eye on your kids to avoid them running off and screaming around in temples, since their echos will be heard by all.
3. There are many activities to do in Sri Lanka that will appeal to the little ones. Visit the turtle hatchery in Kosgoda, the National Railway Museum in Kadugannawa and the elephant orphanage in Pinnawala.
4. If your children are tired, sit at any of the beaches along Sri Lanka's endless coastline. Help your children make sandcastles, leave footprints in the sand, collect seashells or just get their feet wet.
Activities & Things to Do in Sri Lanka
With a diverse topography and rich culture, there is plenty to discover about Sri Lanka. Here is a glimpse of what to expect in modern-day Ceylon:
Relax at the Beaches
Since the nation is an island, there is no dearth of sandy beaches here. From palm-fringed escapes where you can relax and watch the sunset to renting a boat and going whale-watching, there is much to be done by the coast. Some beaches even offer surfing and snorkelling.
Discover Ceylonese History
If history is your cup of tea, take a walk through various museums around the country such as the National Museum in Colombo or Galle Dutch Fort. You can even explore the ruins at the rock fortress in Sigiriya or study the ancient carvings at Isurumuniya Rajamaha Viharaya.
See Elephants Up Close
Sri Lanka has a huge population of elephants, with many orphanages and transit homes also dedicated to these giant herbivorous mammals. Make a stop at Pinnawala, Udawalawe and Minneriya National Park to take pictures of elephants in the wild. You will also find temples dedicated to elephants at some places.
Get to Know the Local Flora
It is not just animals that make a place, but also the plants. Walk through the Royal Botanic Gardens in Peradeniya to be mesmerized by its gardens, collection of orchids and the bonsai zone. Hakgala, Mirijjawila, Henarathgoda and Seetawaka are the other botanical gardens in Sri Lanka.
Visit Ancient Caves
The heritage of this Asian nation is entrenched in its religious buildings, many of which are temples located within caves. Go off the beaten trail and spend some time soaking in the history of Dambulla Royal Cave Temple, which is full of archaic art. You may also photograph the Pidurangala Royal Cave Temple which sits on a giant rock.
What to do in Sri Lanka for Honeymoon
If you are celebrating your marriage, Sri Lanka honeymoon packages will help you focus on your romance while you discover its beauty. Get cosy in your little retreat in Pigeon Island or Bentota or sip on authentic Ceylonese tea as you take in the lush views of the tea estates in Nuwara Eliya.
What to do in Sri Lanka with Family
National parks are more fun with family, and that is why it is a good idea to go on safaris at Yala National Park, Horton Plains or Kaudulla. You can also go on boat trips around the sea or try snorkelling with your teenagers for a glimpse of corals underwater.
What to do in Sri Lanka on a Budget
Sri Lanka is not an expensive destination and it is possible to experience the country in its entirety on a budget. If you wish to maximize your free activities, stick to relaxing at the beaches or browsing through the boutique stores inside the mall at Arcade Independence Square.
You can also switch things up a bit and bring your own camping gear to spend the night at a campsite (instead of glamping on a managed camp) or rent your own boat to explore the seas (versus opting for a cruise package).
What to do in Sri Lanka for Non Swimmers
Sri Lanka may be surrounded by water on all sides, but you don't need to be a swimmer to be able to make the most of your holiday here. From hiking in the hills to birdwatching inside national parks, you can do a lot without even getting close to the waters.
There are also a number of gorgeous lakes that dot the country, some with temples at the centre. Stop at Gangaramaya Temple on Beira Lake or stand by the large Kandy Lake. You can even join in the water sports that are available at Lake Gregory without the need to be able to swim.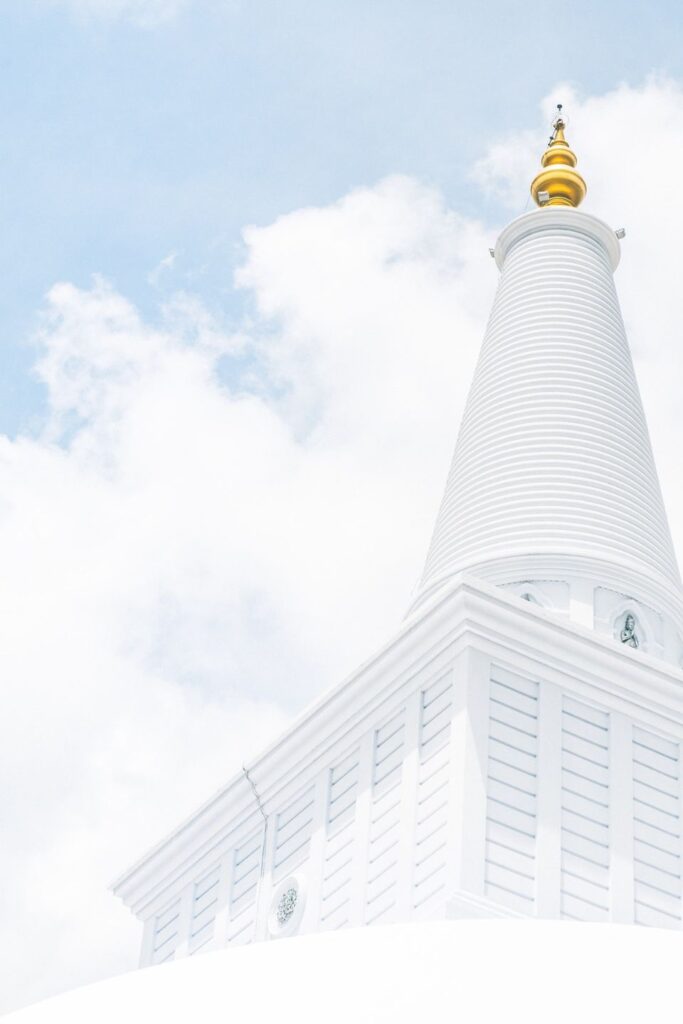 It only takes a few hours to go from India to Sri Lanka but the few days you spend on this island nation will change your perspective of life forever. You will be able to change the rhythm of your holiday – from tranquil (at the beach) to adventurous (when you cycle in the hills or go trekking) as per your wish. The aromatic food will only add more spice to your colourful vacation!